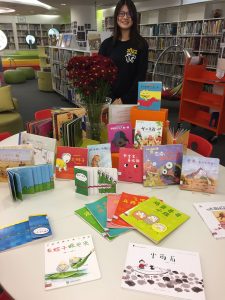 Like biodiversity, linguistic diversity is important to study and safeguard. Every year on February 21, the United Nations observes International Mother Language Day to celebrate all languages and promote multilingualism.
ISB observed #IMLD2020 with displays in both libraries, a themed prompt on the ES floor-to-ceiling chalkboard, and a video in the MS daily announcements. HS student Shea (above) read aloud in Mandarin to ES classes as part of her Global Citizenship Week internship with Nat Whitman, ES Hub. (Last year's Hub observance featured read-alouds in Thai.)
Happy International Mother (Native) Language Day, and have a language-rich February Break!
Above: Shea, grade 10, with a table of Mandarin children's books she prepared in the ES Hub. Below: Instructional Assistant Khun Mam with the multilingual bulletin board she made in the Main Library.