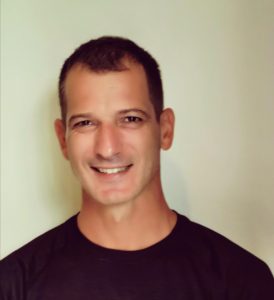 Where have you grown up and spent your life?
I was born in Israel. My mother made an "Aliya" (coming back to the promised land) from North Africa. My father made an "Aliya" as a baby from Europe. They met on a Moshav (similar to a Kibutz) that was initiated by my grandparents and had 60 families living in the community. I grew up in that community, and it is still flourishing and expanding.
Canada was always considered as a second home and I've spent many summers (and some cold winters) visiting my family there. I think it was a secret plan of my family to bring the Israeli kids to teach their Canadian cousins some Hebrew. I went to our Moshav school and the roster of students was the same until we moved up to middle school and high school. I actually sat next to my childhood friend most of my 12-year school career. I still sit next to my friend when I happen to visit and participate in different activities and ceremonies within the community.
I've served in the IDF and was an officer, as a trainer mostly. Just like many Israelis after the army I traveled as a backpacker for many months, knowing I've got the traveling bug in me, to see different places, experience cultures, and make friends with strangers. But then my mother enrolled me in law school, and the rest is history. I'm still a lawyer though.
What are your fields of specialty and your interests/hobbies?
I'm an observer and sometimes can't help but analyze situations. Growing up I was very active and I would manage to transform "Krav-Maga" (Israeli martial art) to Kungfu and Tai Chi. I like the meditative elements and generating mental and physical balance. I've always taught; however, this is my 9th year teaching children, internationally. I enjoy a good book (preferably in Hebrew), a good walk or workout as well as hanging out with friends. However, I feel more alive around animals and nature.
What do you enjoy about teaching Hebrew?
I love Hebrew. I don't think I appreciated the language as a kid as much as an adult when I feel that I've "mastered" the language. I often get confused while still learning English, as it is so wide that I have found my American, British, Kiwi and Aussie friends disagreeing with their answers to my linguistic questions. This is not the case in Hebrew, which seems more structured and sensible. I love teaching and I love the idea of teaching Hebrew in a former country and international community. Hebrew language is connected with Israeli culture which adds a significant flavor to the course. I appreciate the connections children are making with the culture, and learning Hebrew empowers them as well as offers them a sense of belonging and pride.
What are some tips for ISB families trying to maintain their children's native language?
I believe that children should use their native language whenever they can – both when they learn in a language and when they are learning the language itself. They can make a connection to Hebrew in a metacognitive manner – they are able to have inner thoughts, read books and even dream in Hebrew. This is as well as playing games and watching tv in Hebrew (or with Hebrew subtitles). From my experience, kids strengthen their language ability significantly when they visit Israel over the summer or during winter break. If that is not possible, then have them "facetime" their cousins and grandparents (in Hebrew, of course!).☺︎