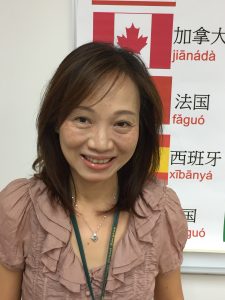 Where have you grown up and spent your life?
Nihao! I am a native Chinese speaker born and raised in Taiwan. I went to the US in 1993 for my graduate study at Colorado State University in Fort Collins, where I met my husband and got settled in the Front Range area. I received my MA in design, merchandising and consumer sciences from CSU and currently hold a Colorado teaching license with a Mandarin Chinese endorsement (K-12).
Inspired by my daughters as their Mandarin tutor, I found my second talent and passion in teaching. With a decade of teaching experience, I have taught Mandarin to small groups and large classes and worked with a diverse range of students, from Chinese kindergarteners with American parents to college students from Ethiopia. I moved to Thailand and began teaching after-school Mandarin at ISB in fall 2017.
What are your fields of specialty and your interests/hobbies?
In my free time, I enjoy spending time with my family, going hiking/biking, skiing, playing tennis/golf, watching movies, hunting for gourmet food, and travelling to discover all the different places and cultures around the world. Regarding my hobbies, I also love to cook authentic home-style foods, practice yoga, take care of my garden, and listen to music while reading my favorite Chinese novels.
What have you enjoyed about teaching Mandarin at ISB?
I enjoy getting to know ISB—a culturally rich community with many students and families interested in Chinese. I love teaching Mandarin here, where the students' passion for learning Chinese brings me rewarding positive energy every day in my teaching practice.
What are three tips for ISB families trying to maintain their children's native language?
Speak the language with your children, giving them lots of practice using it no matter WHEN, WHERE, WHO, WHAT.
Keep a tight connection with family members back home.
Set clear and firm expectations and doable goals, and make them become routine. Prioritize the learning tasks with your children and offer positive reinforcement.