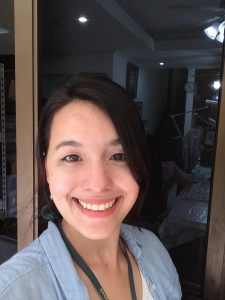 Where have you grown up and spent your life?
I was born and raised in Berlin, Germany. I grew up in a German-Thai household, but I only spoke a little Thai during childhood. When I finished high school, I took a year off and traveled to Thailand to study Thai. I spent a whole year in Prachinburi in the countryside with my aunt, uncle, and two cousins. There, I studied the Thai language, both reading and writing, at a local school. It was really hard in the beginning, but my family and friends supported me all the way.
When I was done with my year in Thailand, I returned to Germany for a year, but then I decided to go back to Thailand to study hotel and tourism management in Bangkok. I worked at several hotels in the food and beverage area, but I changed my field of work when the Goethe-Institut Thailand, the German cultural institute, needed a translator. After I began working there, I met my husband Andreas, an ISB alumnus. Shortly thereafter, we got married and had our beautiful daughter, who is now at ISB in ES.
I look forward to spending many more years in this beautiful country of Thailand, which I now call home.
What are your fields of specialty and your interests/hobbies?
I have a heart for crafts and am glad that my daughter shares the same passion. We are always looking for new things to do and new materials to work with. I have also discovered my passion for baking. I try to bake German treats now and then to bring Germany to Thailand.
What are some tips for ISB families trying to maintain their children's native language?
Try to speak in your native language at home. Even if your child does not understand everything, they will develop an ear for the language.
Learn and play: play board games at home in your language, using it to count, name colors, etc. This will help your child to remember keywords used at playtime. You can also play memory games with flash cards to review vocabulary.
Let your child watch some TV in your native language.
Find other native speaking families with children around the same age, and try to do activities together.