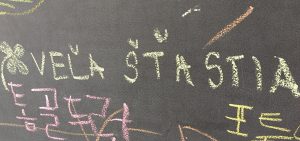 "We need to take care of our languages just like we take care of a garden." With these words, librarian Nat Whitman showed a Grade 1 class several books authored in their native languages, and asked staff member Khun Jeab to read a book aloud in Thai. Down the hall, teachers, parents, and students wrote "good luck" phrases in their languages—from Slovak (above) to Portuguese and Tagalog (below)—on a large chalkboard. These were just two observances of International Mother (Native) Language Day 2019 at ISB.
International Mother Language Day is a day to promote linguistic and cultural diversity and multilingualism. The UN reports that at least 43 percent of the estimated 6000 languages spoken in the world are endangered. Every two weeks a language disappears, taking with it a way of knowing.
To affirm the importance of native languages, ISB hosted a Raising Multilinguals followup workshop for parents in all divisions, in which participants (some shown below) discussed ways to offer children language-rich experiences.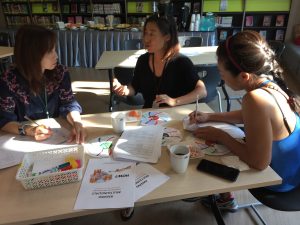 ISB staff also affirmed languages with a display in the MS/HS Library, images in the High School student bulletin, and a Facebook post showcasing several Native Language classes. We applaud them!
Happy International Mother (Native) Language Day!