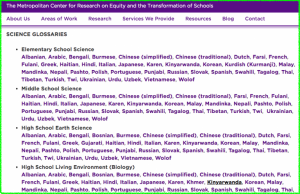 Discussing academic concepts in all of students' languages is a great way to deepen their learning at ISB.
During the weeks of March 9-13 and 16-20 [March 17 update: international schools are closed until further notice], students will engage in online learning due to the evolving COVID-19 situation. This time presents an opportunity for families to discuss academic concepts in students' native languages, in some cases as students are studying the concepts.
Glossaries for school can support this process. To access Bilingual Glossaries for many academic subjects, in numerous ISB languages, click on Bilingual Glossaries under Bookmarks at the right side of this blog.
There are also many ways to exercise languages outside of study time. To read tips by ISB Native Language Academy teachers on how to have fun practicing languages at home—from reading aloud together to playing games—please click Educators at the top of this blog, and then click any teacher's name for the teacher's tips. Have fun!
This post was last updated on 17 March 2020 at 2 p.m.