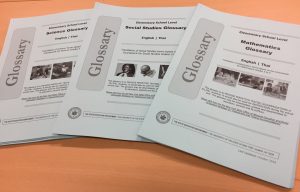 When parents, faculty and administrators gathered for today's Raising Multilinguals: How? workshop, they enjoyed a buffet of samosas, sushi, mangoes with sticky rice—and bilingual glossaries.
The glossaries, organized by school subject and division (elementary, middle, high) are downloadable from the Metropolitan Center for Research on Equity and Transformation in Schools, New York University. They come in many ISB languages.
Bilingual glossaries can help students and families discuss schoolwork in their native tongue(s), one of many language-rich experiences discussed at Raising Multilinguals: How?.
At this workshop, presenters defined a language-rich experience as "any experience where opportunities to use language are created and nurtured." Participants explored ways to transform everyday experiences—from discussing homework to texting to waiting in traffic—into language-rich moments. Small groups considered ways to infuse speaking, listening, reading, and/or writing into different scenarios, and they pondered ways to have conversations that nurture language growth. Finally, everyone affirmed the importance of reading aloud in one's native language(s).
If you missed last month's Raising Multilinguals workshop or today's Raising Multilinguals: How? workshop, feel free to email us for information: nativelanguage@isb.ac.th
Meanwhile, do sample the bilingual glossaries online! Click on Bilingual Glossaries under Bookmarks at the right side of this blog.