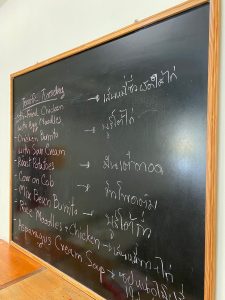 Why not post the Elementary School cafeteria menu in Thai as well as English?
This question from ES teacher Chad Rimbey recently led to a small yet powerful change at ISB: Khun Pook of Epicure writes the day's menu in both languages on the chalkboard by the ES cafeteria.
This gives students studying Thai some extra reading practice; helps them to see Epicure staff as experts in a language they themselves are learning; and increases understanding of the menu for Thai readers. (All ES students study Thai for at least one year; Thai passport holders continue to study Thai throughout their schooling, and non-Thai passport holders can choose to continue studying Thai as a world language.)
ISB boards and walls marked this occasion in other ways, too—from a prompt on the floor-to-ceiling chalkboard in the ES, to a bulletin board in the MS/HS Library, to posters in the Cultural Centre and around campus.
How else can you imagine sending the message that "multilingual is normal" at ISB?