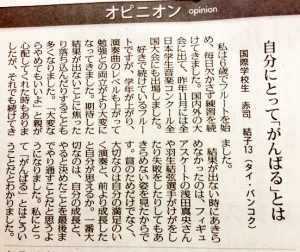 A student in ISB's MS Native Japanese class has published an essay in the Mainichi Shimbun, a premier national newspaper in Japan. The student, Yuiko, wrote about how watching two famous figure skaters inspired her to keep working hard as a flutist.
Yuiko drafted and submitted her essay along with all students in MS Native Japanese, taught by Kahoru Nakamachi, in a Media and Culture unit. In this unit, student worked on articulating their opinions with a particular media outlet, audience, purpose, and style in mind.
Some students submitted their essays to Japan's Asahi Shimbun newspaper, in which two ISB students published essays last year; other students submitted to the Yomiuri Shimbun newspaper. Yuiko chose the Mainichi Shimbun newspaper because her grandparents in Osaka subscribe.
In her essay (published March 31, 2019), Yuiko expresses what the word ganbaru (頑張る) means to her, including self-motivation and follow-through, referring to the careers of Mao Asada and Yuzuru Hanyu.
Thoughtful reflection about one's learning, as well as writing for an authentic audience, are key tasks for multilingual students and highly valued at ISB.