Two students in ISB's new MS Native Japanese class have published essays in the Asahi Shimbun, a premier national newspaper in Japan. The students, Nemi and Yuki, wrote comparatively about their experiences in Japanese schools and at international school in Thailand.
Nemi focused on life skills classes in Japanese schools (March 30, 2018):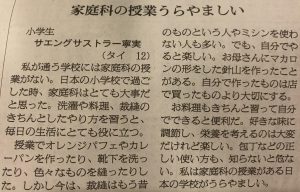 Yuki wrote about class discussions at international school (April 22, 2018):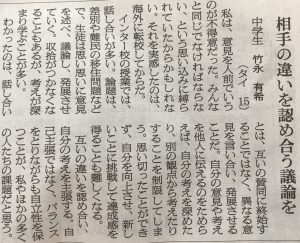 These students drafted and submitted essays along with all students in MS Native Japanese, taught by Kahoru Nakamachi, in a Media and Culture unit.
High School students in Native Japanese I and II have similarly drafted and submitted essays in class, with students Mai and Yui publishing their essays in late October 2017.
Comparative reflection about one's cultures, and writing for an authentic audience, are key tasks for multilingual students and highly valued at ISB.