In summer 2021, ISB's first-ever summer native language camp was offered virtually: 意見文・小論文のクラス (Japanese Essay Writing Camp) for students in grades 8-9, taught by Kahoru Nakamachi.
This intensive, two-week camp provided students with "opportunities to read, analyze, and discuss in order to think critically and write effectively" in Japanese. It took place from late June to early July.
Later in July, essays by two students in the camp were published in the Asahi Shimbun, a premier Japanese national newspaper!
Koki (HS) wrote about why young people do not watch TV as in the past (July 13, 2021):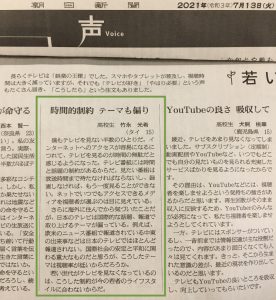 Takanori (MS) wrote about ways to ensure that people can use social networking services safely (July 24, 2021):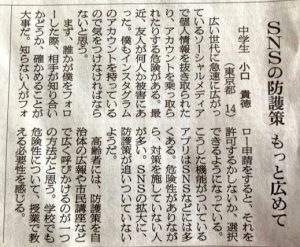 Critical reflection about one's cultures, and writing for an authentic audience, are key tasks for multilingual students and highly valued at ISB. Congratulations to the students who published essays, and to all who took part in the writing camp!