To ensure a smoother, more efficient process, we have made some adjustments to the ID card and wristband collection process and have some updates below:
Who needs a new ID card:
All NEW students and parents to ISB (Must have their uniform shirt with them and Admission approval form)
Returning students starting Grade 6 and Grade 9. (Students must come to campus with their green or blue shirt)
Returning parents who still have an old GREEN ISB ID card – Like this one below.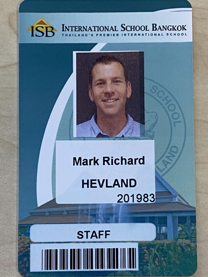 Wristbands:
All ES students will need a wristband. They must come in to get sized. (We are currently waiting for smaller sizes to arrive. We will visit all homeroom classes and exchange those that don't fit properly once school has started)
Location:
ID / wristband station will be located in the Chevron Foyer starting Monday, Aug 3rd.
Parents will need to book an appointment. This appointment is for the entire family, there no need to book for each individual. Click here to book an appointment.
Times:
Monday – Friday: 7:30am – 3:30pm
Saturday: 8:00am – 11:00am
As adults will only have limited access to campus for the beginning of school, we will process Mae Bahns, drivers, and family helpers cards at a later date.
By: Mark Hevland, Director of Risk Management
markh@isb.ac.th