Raising Multilinguals How?
Unlocking the World through Language-Rich Experiences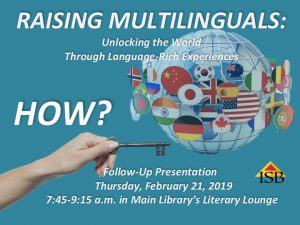 On February 21, 2019, ISB offered a parent workshop called Raising Multilinguals How? — Unlocking the World Through Language-Rich Experiences. This workshop was in follow-up to our annual Raising Multilinguals presentation. It focused on ways to nurture literacy in native languages at home, in support of a family language plan.
The family language plan itself was last introduced in
Raising Multilinguals
on January 24, 2019, by administrators, EAL faculty, and Native Language faculty.
Would you like to receive information from either of these workshops? No problem! Please write to nativelanguage@isb.ac.th.