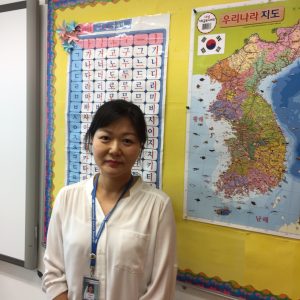 Young Ae Jung teaches Korean after-school in the Panther Native Language Academy, often working with Elementary School students.
Where have you grown up and spent your life?
I lived in South Korea all my life until I moved to Thailand.
What are your fields of specialty and your hobbies?
My major field is Korean and my specialty is syntax. I enjoy reading.
What have you enjoyed about teaching Korean at ISB?
When I see the students understand new things about Korean society and culture, I feel satisfied.
What are three tips for ISB families trying to maintain their children's native language?
1. Speak the language at home.
2. Have children read a book in the language every day.
3. If possible, have your children do activities with others in your mother tongue community!