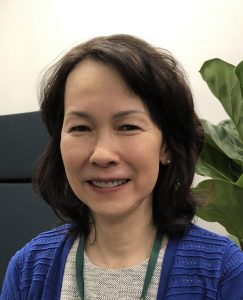 Where have you grown up and spent your life?
I have spent more than half of my life overseas: in England, the USA and Thailand. I grew up in a small town called Tokushima, Japan, until I went off to graduate school in the US. After completing degrees, I moved to Thailand in 1996.
What are your fields of specialty and your interests/hobbies?
I started my career as an English teacher at high school but after one year, I went back to school to study education policy. I do research and consulting on policy analysis in various fields of education.
Writing, fiction and nonfiction, is my passion. I love music and dance. Actually, I have a master certificate in Japanese traditional dance and hold workshops occasionally, inviting a teacher from Japan. If you are interested, please let me know!
What have you enjoyed about teaching Japanese at ISB?
Getting to know each student. Learning their interests, dreams, and concerns gives me an opportunity to look at life with a new perspective.
What are three tips for ISB families trying to maintain their children's native language?
I have two children who grew up in Thailand and went to international schools. (One is at ISB!) Their father is an American, and English is their primary language. As a Japanese mother, I tried everything I could think of to develop/maintain their Japanese language skills. Have I succeeded? Hmmm, I am not a judge and all I can say is I am proud of them, no matter what level their language skills are!
Motivation is a necessary condition . . . How you provide an environment to motivate your children to learn and maintain the language is key. There are various ways to motivate your children. There is no right or wrong, or better or worse way since each child is different and has his/her own preferences. Also, education requires planning for the long term. Take your time and relax! Parenting is a test of patience.