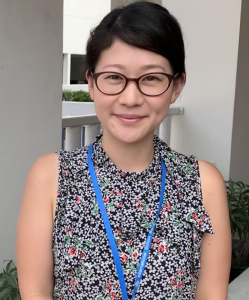 Where have you grown up and spent your life?
I grew up and attended university in Shizuoka, Japan. After spending time in Tokyo for work, I moved to Thailand—my husband's home country—in 2015.
After coming to Thailand and giving birth to our daughter, I discovered my interest in teaching Japanese. I enjoy the challenge of new things and the opportunity to pursue my dreams. I love learning languages, so I truly enjoy teaching Japanese both as a mother language and as a foreign language. My classes incorporate many activities which I have been able to gather through my own experiences over the years.
What are your fields of specialty and your interests/hobbies?
In university, I studied International Relations which included languages, cultures and intercultural communications. I love traveling. In my younger years, I experienced backpacker style travel, but now I enjoy more relaxing travel with my husband and daughter. Also, I enjoy documenting my travels through videos, which add so much fun to travel even after it is over.
What have you enjoyed about teaching Japanese at ISB?
I enjoy creating language-rich activities. I believe that class activity ideas are everywhere around us. Even during my commute to ISB, the surroundings stimulate my ideas for class. When I plan my class, all the students' faces pop up in my head, and I imagine their reactions to my ideas. I have found all of the students to be amazing. Their reactions are far above my expectations and serve as my motivation for further activities and class development.
What are three tips for ISB families trying to maintain their children's native language?
1. Converse about classroom topics
I believe that having many opportunities to discuss topics beyond daily life plays a vital role in the development and maintenance of the native language. 'How was your day today?' and 'What did you learn today at school?' are common questions at home, but they often result in, 'Not much.' I am happy to share my class content with parents, and I am glad if a topic we study in class (from tax rates to aging to the Rugby World Cup) can become a topic of conversation at the dinner table.
2. Give the right motivation for writing
If we ask students to 'do a sakubun' or 'write an essay', most students freeze and their brains stop. I try not to use that black magic; rather, I seek to encourage them to write without saying sakubun. Sakubun shouldn't merely be written for the sake of sakubun. We need to encourage students to develop and share opinions, ideas, and feelings. Without any thoughts to share, writing is tough work and just painful. If we (including myself) guide them to summarize their ideas, make them conscious that a reader exists, and then give some structural ideas, I think that students will change their views about writing.
3. Read together
The words used in daily conversation are limited. In order to extend students' language ability, I think reading is the most important skill for language development and maintenance, at any level.