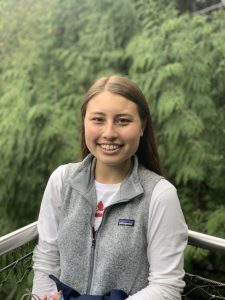 Where have you grown up and spent your life?
I grew up and have spent most of my life in Toronto, Canada in a bi-cultural family (Japanese and Canadian). I spent my summers growing up travelling to Japan to visit family and to practice my Japanese.
What are your fields of specialty and your interests/hobbies?
In university I specialized in biology, where I was able to explore research which is something I enjoy. Outside of academics, I really enjoy exploring the outdoors, hiking, travelling to new places, swimming and volleyball!

What have you enjoyed about teaching Japanese at ISB?
For myself, being half-Japanese, it has been great being able to teach students who have similar backgrounds as I do. Being able to share my love (and struggles) of the Japanese language with students who are like me has been very interesting and fun!

What are three tips for ISB families trying to maintain their children's native language?
1. Speak the language at home as often as you can!
2. Watch movies/TV shows in your native language. For me, although I went to Japanese school on Saturdays and spoke Japanese with my family, I believe watching TV in Japanese is what helped me the most.
3. Explore your native culture's food, traditions, holidays, etc. I always find it nice to learn not only the language but also traditions that the children can share with their friends.