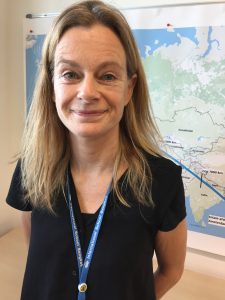 Where have you grown up and spent your life?
I was born in the "cheese city" of Alkmaar, the Netherlands, and I lived and worked in Amsterdam before I came to Bangkok.
What are your fields of specialty and your interests/hobbies?
I'm a primary teacher. Here at ISB I have taught Dutch after-school for nine years. Yoga, reading and traveling are what I love to do in my free time.
What have you enjoyed about teaching Dutch at ISB?
It is wonderful to see how enthusiastic the students are, considering they have to do reading and writing after school hours while their friends are doing sports or other fun activities. They are always so happy to see each other, have a strong WE feeling, and that makes teaching them loads of fun for me too.
What are three tips for ISB families trying to maintain their children's native language?
When children are away from their home country for a long period, for many it is easier to speak and think in English which is very normal for a bilingual child. A lot of times parents start to talk back in English and as a consequence, children start to forget their own language. Here are ways to prevent this (source: presentation at recent Dutch Cultural Society teachers' conference):