During the 2019-20 school year, five students in the HS Japanese Native II and MS Native Japanese classes published essays in the Asahi Shimbun, a premier Japanese national newspaper. The students wrote about navigating overseas moves and about their intercultural identities.
Click images below to enlarge.
Kotoha (HS) wrote about negotiating academic English and classroom discussions at international school (November 20, 2019):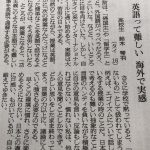 Lisa (HS) described maintaining two family languages, Japanese and Korean, with inspiration from a friend (November 26, 2019):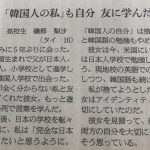 Emina (MS) called for acceptance of people with a wide variety of physical appearances in Japanese society (January 7, 2020):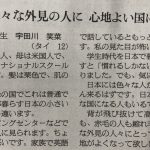 Satomi (MS) reflected on flying to Japan to be with an ailing grandparent, who struggled to communicate (January 16, 2020):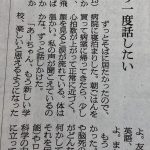 Karen (MS) urged that virtual reality and artificial intelligence be used to foster intercultural empathy (January 28, 2020):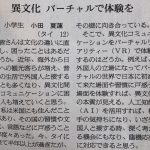 The students drafted and submitted their essays as part of Media and Culture units instructed by Kahoru Nakamachi. The units called for writing one's opinion with a particular outlet, audience, purpose, and style in mind.
Students in prior years have published essays about striving and about similarities and differences between Japanese and international school.
Comparative reflection about one's cultures, and writing for an authentic audience, are key tasks for multilingual students and highly valued at ISB.