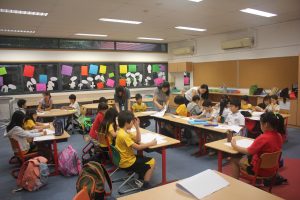 According to the U.S. Department of State's Foreign Service Institute, several languages represented at ISB are "exceptionally difficult" for persons whose main language is English. This is because the languages—Japanese, Korean, Mandarin, Cantonese, and Arabic—contrast highly with English, for example in their writing systems.
For students who study mostly in English at ISB, it can be hard to maintain proficiency in these languages, even as native speakers. Beyond speaking the languages at home and taking classes, many students make extra efforts related to the languages—as do their parents.
In the Elementary School, Japanese parent volunteers run morning literacy sessions twice per week, in which students practice Japanese reading and writing before going off to their homeroom classes. The morning sessions complement weekly classes taught by Ms. Kaori Iwaki, and weekly afternoon cultural activities led by High School Japanese students.
The morning sessions are well attended and, in combination with other efforts, lead to clear progress in students' writing and reading skills. Massive thanks to the ISB parents who give their time for this purpose!