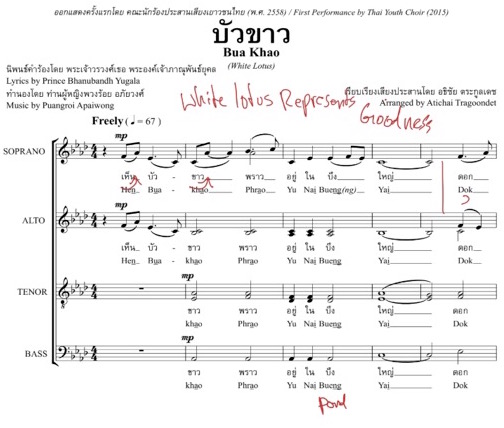 As the Songkran holiday approaches, enjoy this clip of Thai-language choral performance by ISB's HS delegates to IASIS Cultural Convention, March 2019.
Here, the delegates perform บัวขาว (Bua Khao, or White Lotus) with lyrics by Prince Bhanubandh Yugala, music by Puangroi Apaiwong, and arrangement by Atichai Tragoondet. Singers are (from left) Jillian, Saharat, Andrew, Rhea, Jitpuwapat, Rada, Nevaan, and Leah.
The Thai speakers in the ensemble coached their classmates and MS/HS choral director Andy Marshall on pronunciation and meaning of the piece. At top is the first page of the score with Mr. Marshall's annotations.
Enjoy a peaceful Thai New Year.