On B-days, I start the day with Science.  It's a good class to have in the morning if you're tired, because Mr. Huttner has us watch a lot of movies (darkness required ;P) and gives us fairly easy assignments.  Though, it's easy for us to learn stuff.  He used to make powerpoints for everything so we have notes to study from panthernet, but lately he's getting everyone to do science simulations on computers and we learn more about our subject as we go through the directions.  We also have been doing some experiments in groups and every group has different problem questions, so our experiments each test something different but we all learn something new.
The next class I have is math, which continues the thread of relaxation.  All year we've been learning how to solve different types of equations and finding out how to make graphs and tables using them.  There's not much homework, and some tests take the whole class to finish, so I think it's pretty easy even though my grade for that class is a B.  Like Science, we get grouped to do projects but the difference is that we are already grouped since there are 4 people per table.
After that is PE.  Right now we're taking this class outside in the fields, which is exhausting because winter is over and the sun is coming out again.  Generally there's a lot of running no matter what sport we're doing.  Especially when we start swimming and forget our bathing suits (running up and down the stairs the whole class |:/).  When we learn new sports like rugby and lacrosse, Mr. Dyke usually tells us the rules and how to play throughout different classes.  It's helpful because in the first couple of classes we learn the basics of the game, then we learn all of the other rules later that make the game more complicated.  At the beginning of class we do warm-ups, either by running, stretching exercises, or a mini-game that test a skill in the sport we're playing.  After that we get into our teams and start playing the sport for the rest of the period.  Now Mr. Dyke is starting a rule that we can't walk at all during the period, and if we do we'll have to do push ups or sit ups.  Like I said, exhausting.
When PE ends, Spanish class starts.  This is Spanish One and is an accelerated class that covers both Spanish A and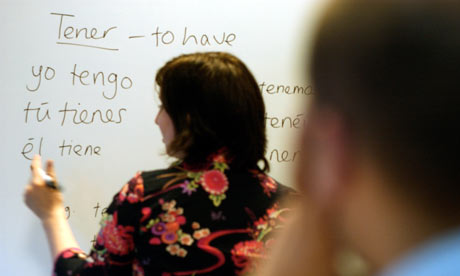 Spanish B in one year.  Luckily for me, Señor Ethridge is a great teacher and gets us to learn quickly so it doesn't feel like too much at all :)  Everything we learn gets progressively harder, from the alphabet and colors to verb conjugation and noun articles.  Sometimes we test our vocabulary with crosswords, physically moving around to in response to the correct word, and get the occasional project.  On normal days (when we don't focus completely on projects) I can't remember ever having an organized schedule for this class.  Sometimes in the middle of class we would check/turn in homework or correct tests and have tests on the beginning of the class.  I can't really predict when we do anything in that class, but it doesn't distract us from learning at all because we get everything done anyway.
The first class after lunch is Period three, otherwise known as Publications.  This class specializes in taking news from around the school and bits from around the world and publishing them on the In The Mix blog as new articles for other ISB students to read.  All we really do in the class is work, but it's not as bad as it sounds.  The stories usually give us something new to learn that we might actually care about.  The articles can be about anything, from mourning the death of a beloved owl mascot to uncomfortable school obsession.  Some articles are fixed as a category, such as book reviews and riddles.  There's also random weekly polls and videos to add some charm to the site.
The last class of the day is Health class.  Really, I've just started this class so I'm not too sure of what really goes on in that class.  Though, I'm sure we'll be watching a lot of videos on the four types of health: mental, social, emotional, and physical health.  There's also a lot of writing, a lot.  We're writing reflections left and right, and we've already started a project about our personal health.  Sooner or later we should be learning on what we can do to actually improve our personal health, but so far we've only been learning about random illnesses popping up in recent history and what happens to you when you contract them.