Last night at 1am our time Apple launched the new iPad….yes not the iPad 3 or the iPad HD as rumors had it…..just iPad. Which is going to make it really confusing come time to buy one.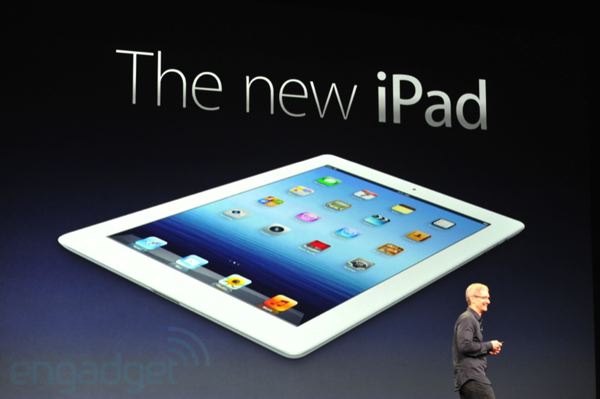 So what do you get with the New iPad:
– Better, Brighter, HD Display
– Quad-Core Processor (twice as fast as the iPad 2….but we don't know what this will do to battery life yet.)
– Better Camera – 5MB
– Able to take HD video
iPad2 will still be sold and the price has drop to – $399 WiFi only (12,260B) and $529 WiFi+3G (16,260B)
iOS 5.1 was released. I recommend this update for iPhone 4 and iPhone 4S and all iPads – Just plug your device into your computer and in iTunes it will either tell you there is an update available or click "Update" to force the download.
My Take
So when it comes to new devices I'm looking for "added features". An example would be Siri on iPhone 4s but not on other devices. That's a feature you only get with that device.
With the new iPad there are no new features. The hardware has been updated: Better display, better camera, faster processor. These are all good things but at the end of the day it functions just like the iPad2. With the iPad2 now at $399 and $529 it makes it that much sweeter of a deal. For $399 per student we could replace all textbooks 6-12. I wonder if there is any cost savings in that ;)? So it's going to come down to a personal decision. Do you go with the new iPad that is faster and knowing that technology moves at the speed of light, getting the newest is usually better. Or, do you go with the iPad2 at a great price knowing it does everything the new one does it's just not as shinny.
I highly recommend the WiFi+3G model of either. I promise you won't be sorry and the connection here in Bangkok has been very good. The new iPad does come with 4G but unless you are in the U.S. or U.K. that's useless to you anywhere else right now.
The release date for the new iPad is March 16th and it will be released in Hong Kong and Singapore which means they'll be here at MBK on the 17th at the latest. I DO NOT recommend buying one at MBK. The knockoffs are hard to spot and seeing that this looks exactly like the iPad2, unless you know what you're looking for and at you could easily get something you didn't pay for. The new iPad will probably be out in Thailand officially in June if history holds true, but no official word from Apple Thailand yet.
That's the low down……let me know if you have any questions or if you would like to buy me one! :)